Description Our already famous VIR Fitness360º Pack is what can turn any elliptical or bike (whether static or spinning) into a virtual reality compatible fitness device. For any bicycle or...
people are viewing this product
Description
Our already famous VIR Fitness360º Pack is what can turn any elliptical or bike (whether static or spinning) into a virtual reality compatible fitness device.
For any bicycle or elliptical that does not have a Bluetooth protocol with FTMS, the VR Fitness pack allows you to integrate all these options and thus use fitness software, especially for the Holofit.
In the case of Holofit, it is the only game that has been fully tested and will work 100% with any device, regardless of its technical characteristics.
What is Holofit?
What can Holofit do for you?

With Holofit you can virtually run, cycle or paddle through breathtaking worlds. Here you can choose between real worlds and fantasy worlds.

The Holofit VR Fitness app must be installed on your smartphone. To be able to use the application, you must insert your smartphone into the virtual reality glasses and then dive into the virtual worlds.
Why use Holofit?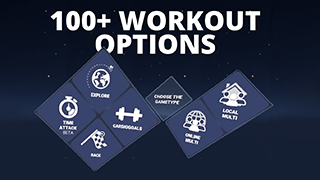 Forget about dull and boring training sessions!

Discover breathtaking virtual worlds with your friends, participate in competitions, reach your cardiovascular goals or compete against your own personal best.
With Holofit, you can achieve maximum results with minimum effort in guided exercises.

What is needed to use Holofit?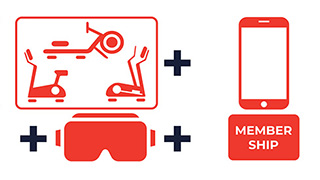 To start your VR training, you only need a fitness device, the VR glasses (in which you must insert your smartphone) and an additional cadence sensor, if you want to connect an ergometer, a cross trainer or a bicycle indoor that does not use Bluetooth Standard FTMS.

If you meet these requirements and have selected the appropriate subscription (3 months, 12 months or lifetime), nothing will stop your journey in the virtual world.
Support to turn your smartphone into a virtual world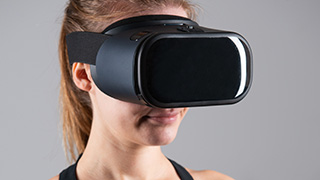 Virtual reality glasses allow you to immerse yourself in virtual worlds with your smartphone. Good quality and high-end optics are just some of the advantages of virtual reality glasses.

You can also adjust the glasses very quickly and individually to the size and shape of your head.
Due to the very low weight of the VR goggles, you won't feel like you're still wearing them during training and you can fully dedicate yourself to the VR experience.
Holofit APP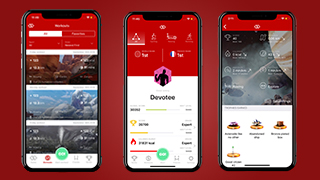 Holofit "Companion App" is your faithful companion for every workout. You will be able to save all training sessions and closely monitor the results. In addition, trophies can be unlocked and collected.

To increase motivation even more, you can connect with friends and compare results.

The "Companion App" is an additional application that you can use for free, in addition to the Holofit VR Fitness App.
Items included
1 set Homido Prime sunglasses

1 month free Holofit subscription
1 IGPSport C61 cadence sensor
Installation manual for VR use of any machine (elliptical, rowing or bicycle)
1. Introduction
All orders completed and paid for by Credit Card or PayPal will be shipped on the same day, as long as payment has been made by 12:00 on a working day. Orders paid after this time will be shipped the next business day.
Due to the current situation of COVID-19, we do not guarantee same-day shipment if payment is made before 12:00.
All orders will be shipped 1-2 business days after payment.
With the option of payment by bank transfer, the order will be shipped on the day we receive confirmation of payment from the bank.
If we have any questions regarding the order (delivery address, payment confirmation, products out of stock, etc.), we will contact the customer through our Customer Service. The order will not be shipped until we get a response to our message. If we don't get any response, we will cancel the order and refund the customer.
2. Shipping
What is the difference between "Normal Shipping" and "Home Installation"?
The normal shipping assumes delivery by carrier, delivered by only one person, and where the recipient must have the necessary conditions to receive the equipment at the level from the street and place by their own means in the intended location.
Already Installation at home it presupposes shipping by fitness360 transport, where two professionals will go who will assume all the delivery and assembly, even if the location higher than street level (eg apartment). In this case, delivery is ensured at the desired location (as long as it is physically possible) and the customer will not have any additional concerns other than opening the door.
 3. Delivery time
All shipments to Portugal (Continental) are free of charge and have a maximum delivery time of 48 hours (working days)
Shipments to Madeira and Azores will be made within 1-2 weeks
Shipments for Spain (Continental) they have a delivery time of 48h to 72h
For other areas and regions delivery estimates are provided upon request
 4. Returns
fitness360 accepts returns in accordance with the deadlines established by law. 14 days after purchase, the customer is entitled to request a full refund as long as the item arrives at our facilities in the exact condition in which it was delivered. It should be noted that the return (shipping) costs must be borne by the customer.
Shipments and assemblies
Shipping and assembly at the delivery address? At Fitness360º everything is included! We want our service to not cause you any worries. When you buy on our website, you will be contacted immediately in order to schedule the delivery time that best suits you.
Payment
Payment can be made at the time of order or upon collection, only upon delivery to your home. Without a carrier to guarantee the correct handling of your equipment, our team will go to the installation site and carry out all the work, whatever the equipment (except for VR Glasses if purchased separately).
Equipment assembly
For all our products, we have the option of delivery with assembly. This method has an additional cost of €95 and can only be purchased at the end of your order.